Christmas Eve with Aunt Stella
For the past 41 years, I have spent Christmas Eve with my Aunt Stella. In over 4 decades, I have never once missed this evening with my Aunt and it has become a treasured part of my holiday traditions. It is also something that I know is very important to Stella. She looks forward to hosting her family on this night each year – so much so that for the past 8 years, Stella has welcomed her family to the Bingo hall of the senior center where she now lives. As soon as she moved into that building, she inquired if there was a hall she could rent for Christmas Eve. She placed a $50 deposit for the rental 8 years ago and has told them to hang on to it ever since. She now has a long-standing reservation for her Christmas Eve dinner.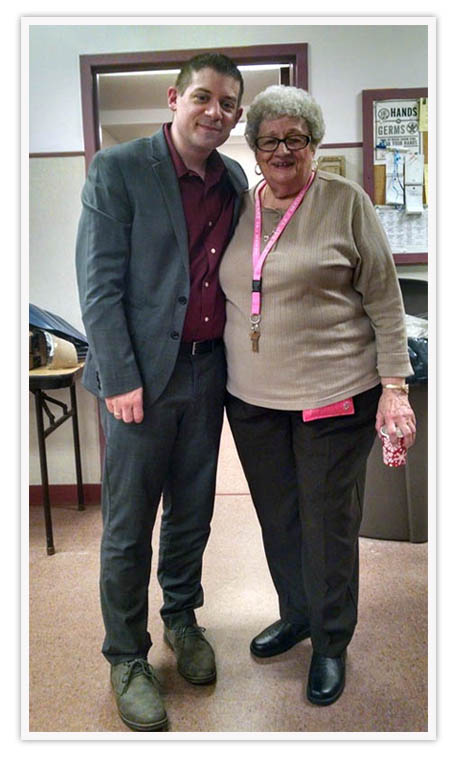 This past year was the final year that we will visit with Stella at the senior center. She is now over 80 years old, and the preparations for the event have simply become too much for her. In truth, she probably should've handed the responsibility for hosting Christmas Eve off many years ago, but in her stubborn demand to stick to tradition, she has refused to allow my wife and myself to host and to alleviate her of this burden (we have offered to do this every year for at least the past 5 years). Next year, however, I think Stella will finally agree to hand over the reins of this holiday. While I know this is for the best and I am more than happy to host my family at my house, part of me is admittedly sad to see a change in this tradition. Sometimes, however, things must change, despite how aggressively you wish to hang onto the traditions you have come to know.
The Pumpkin-King.com Blog
When I first launched the blog on Pumpkin-King.com in 2009, it was my only outlet for sharing my thoughts and writings on web design and life in general. At that time, I was adding multiple articles to the blog each month and I actually had to force myself to slow down and only publish new content every few weeks.
Since this blog first launched, I have been fortunate enough to have the opportunity to share my ideas and experiences on a number of other websites. Over the past few years I have written articles for Smashing Magazine, UX Pin, The Next Web, Creative Bloq, TemplateMonster, and FameFoundry. Additionally, I have managed the web design channel for About.com for nearly 2 years now, contributing new articles and editing existing web design content to that site each month. These writing engagements are in addition to the classes that I teach at URI and my ever-increasing responsibilities as the Director of Marketing for Envision Technology Advisors. Finally, my wife and I launched a travel log this past year at HopefulWanderings.com, giving me another outlet to share my writings and experiences.
The point of listing these websites and responsibilities is not to brag - it is to show how much busier my writing obligations have become since I first launch this blog nearly 8 years ago. Since that time, as my obligations outside of Pumpkin-King.com grew, I went from publishing multiple times each month on Pumpkin-King.com to trying to stick to a schedule of at least 1 new article each month. When I slipped from that schedule, I tried for at least one new addition each quarter, with a special focus each year on a new article for Halloween and also one for Christmas. I had published those holiday articles since the blog began, so at the very least I intended to stick to that tradition and keep the Halloween and Christmas content coming.
This year, I did not add any new content to my blog until it was time for my Halloween addition, and I struggled to write even that one article. When it came time for my Christmas-themed submission, I simply did not have the time or the drive to get it done. As much as I hated to accept it, I have to admit that, like Christmas Eve at Aunt Stella's, I was coming to end of a tradition.
The Future
I honestly have no idea what the future holds, either for this blog or for Christmas Eve with my Aunt Stella. While I expect that we will be hosting the holiday next year, my aunt could prove stubborn once again and demand that we have dinner in the Bingo hall. As for this website, I write this article fully expecting that it may be the final one I add to this channel – but that could certainly change. If my other obligations subside or if I suddenly have content to share that fits uniquely on this site, then I may revisit this blog. In truth, I expect that I may do just that from time to time, but one thing I do know is that my tradition of publishing on any kind of a regular schedule, including articles on Halloween and Christmas, ends here. That being the case, allow me one final chance to thank anyone who has enjoyed my articles over the years and to wish everyone a very Merry Christmas and the Happiest of New Years.